Brenda.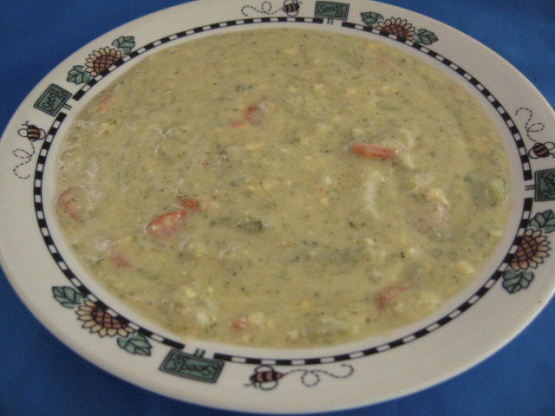 This is crowd pleaser! Easy to make and is very filling.

This is a great soup. Super easy and very filling. I made the following mods. I used 6 cups water. One large head cauliflower, 2 bunch broc., I also used small red potatoes diced in small pieces (not too small). I did not peel the potatoes. I added a third can of crm of celery soup and used only one pound of Velveeta (all I had). I did add a handful of shredded cheddar. I only used 1/2 of a yellow onion finely diced. I will definitely make again.
Chop broccoli and cauliflower; peel and cube carrots and potatoes.
Boil vegetables in 1 quart water; add bouillon and cook until tender.
Add soup and cheese; simmer until cheese melts.
Can use more or less cheese depending on how cheesy you like it.