Parsley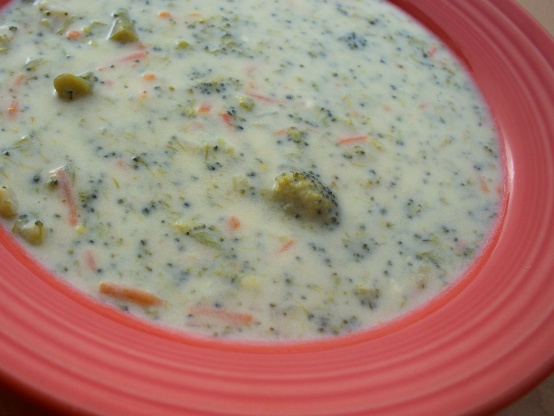 My sister gave this recipe to me many years ago. It's become a family favorite. My kids request it often. I am not a big fan of Velveeta cheese, but it sure does work in this recipe! The soup is creamy and highly satisfying. Enjoy :-)

Really yummy!! I used California Blend veggies instead of broccoli as that is what I had - I used 2 - 12 oz bags (because 1 bag wasn't enough broccoli)- I pulled the frozen carrots out and diced them like I did the potato. I mashed it a little with a potato masher when it was cooked before adding the cheese mixture. I used skim milk and only 1/2 of an onion.
Put the first 7 ingredients into a large soup pot, on medium high heat.
Cook until the vegetables are tender - about 10-15 minutes - while you make the white sauce.
White Sauce:.
In another pot, melt the butter over medium heat.
Gradually add the flour and whisk - until blended. (Don't burn).
Stir in the milk and salt to the flour mixture and keep stirring until it gets thick and smooth. (I've never timed this step - I'm guessing it's about 10 minutes or so.).
Add the Velveeta and stir until blended. Make sure not to boil this mixture.
Now you can add this white sauce to the vegetable mixture.
Heat through and enjoy the comfort!