newmama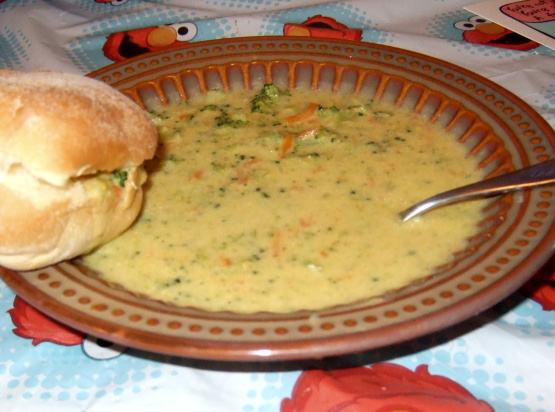 This soup is unbelievably delicious!! I have yet to find another recipe for broccoli cheese soup that is better than this one! Give it a try!

Nice and easy soup. Reminds me of panera's recipe. I made a few changes- using 1 qt chicken stock, 1 cup half and half, 2 cups milk, 1 lb broccoli but kept the carrot and cheese the same. I chopped the broccoli fine so I only put about 3 cups in the food processor and left the rest chunky. Thanks!
Saute onion in butter. Set aside.
Cook melted butter and flour using a whisk over medium heat for 3-5 minutes. Stir constantly and slowly add the half-and-half (this is called making a roux). Add the chicken broth whisking all the time. Simmer for 20 minutes.
Add the broccoli, carrots and onions. Cook over low heat till veggies are tender for 20-25 minutes. Add salt and pepper. The soup should be thickened by now.
Pour in batches into osterizer (blender) and puree.
Return to pot over low heat and add the grated cheese; stir until well blended. Stir in the nutmeg.
This soup can be easily doubled.