Parsley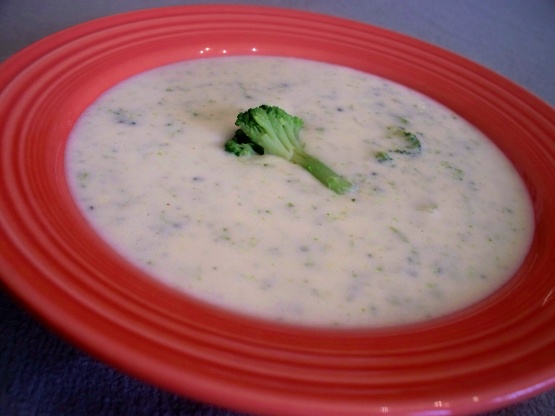 I usually avoid processed food like the plague, but here, I'll make an exception for easy-melting value and texture. A great warm-you up dinner when you don't feel like waiting forever till soup's on. Found this in Cooking Light several years ago.

This recipe was great. Very tasty! Instead of using the food processor to puree part of the soup, I just used a potato masher and mashed all the broccoli in the pan of broth. This made a very smooth soup. thanks for sharing!
Heat a large nonstick saucepan coated with cooking spray over medium-high heat. Add onion and garlic; saute 3 minutes or until tender. Add broth and broccoli. Bring broccoli mixture to a boil over medium-high heat. Reduce heat to medium; cook 10 minutes.
Combine milk and flour, stirring with a whisk until well blended. Add milk mixture to broccoli mixture. Cook 5 minutes or until slightly thick, stirring constantly. Stir in pepper. Remove from heat; add cheese, stirring until cheese melts.
Place one-third of the soup in a blender or food processor, and process until smooth. Return pureed soup mixture to pan.