Broccoli & Cheese Pasta Toss
Derf2440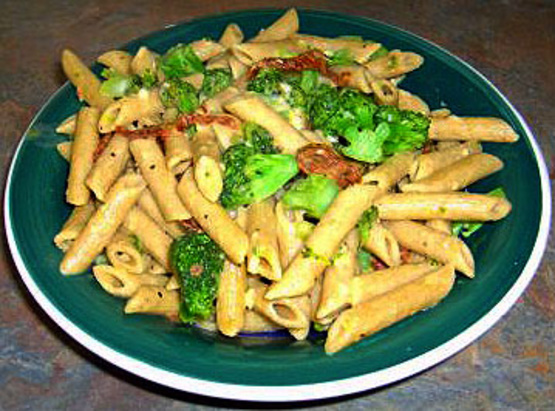 This recipe came from Chatelaine. Its very good with a nice tossed salad!

I love this and so do my kids. We've made it three or four times in the last month. Faster and easier than the packaged noodles and sauce...and it tastes so much better. The one thing I did eventually do was saute the garlic in 1 T. of butter before mixing everything else to cook the raw flavor out of it. Aside from that, spectacular as written. Thanks for a great recipe!
Bring a large saucepan of water to a boil.
Add pasta and cook according to package directions, about 8 minutes.
Meanwhile, cut stems from broccoli.
Peel, then slice into thin rounds.
Slice sun-dried tomatoes into thin strips.
Mince garlic.
Place cheese in a large bowl.
Stir in sun-dried tomatoes and garlic.
When pasta has cooked 8 minutes, add broccoli stems and florets.
Cook until bright green and tender, about 2 minutes.
Ladle out about 1/2 cup pasta water and save.
Drain pasta and broccoli, then return to saucepan.
Place saucepan over medium-high heat.
Stir cheese mixture and pasta water until cheese melts and noodles are evenly coated, about 1 minute.
Taste, then add salt and pepper if you like.