Broccoli Cheese Melt Soup
Chippie1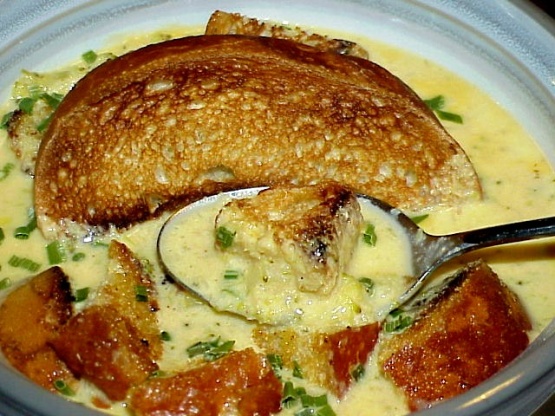 There is never a drop of this soup left! I think it's the absolute best of it's kind. It's almost a meal in and of itself!

I thought it was lovely...not sure why the lower raters expected a "creamy" soup...this is NOT cream of broccoli soup, it does NOT deserve low ratings! This recipe is easy and tasty, a pleasure to both make & eat!
Wash and cut broccoli into small pieces.
Chop onions fine and saute in butter or margarine until they look translucent.
Add broccoli to the onions and saute together for a few minutes.
Add vegetable stock & let cook for 15-20 minutes (I usually use water plus vegetable bouillon).
Add cheese crumbled into small pieces.
Keep stirring until cheese has melted and cook another few minutes.
Add salt, pepper, cayenne pepper and nutmeg.
Remove from heat.
Add sour cream.
Adjust seasonings and serve.
Topping: Heat flavored butter in a pan and add toast that has been cut into cubes.
When browned, top soup. Add chives if desired.