Broccoli-Cheese Casserole
Parsley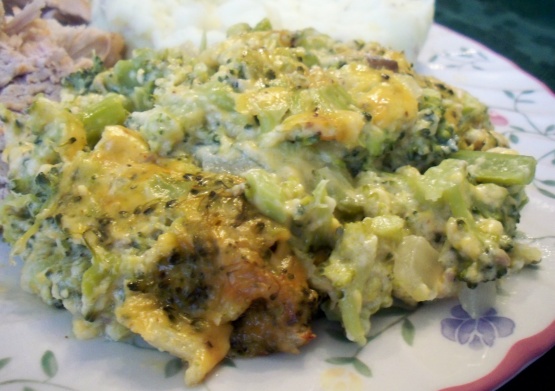 This is such an impressive veggie dish. It's in my top 10 of all time and I collect a lot of recipes. I hope you find it just as perfect as I do.

I had been wanting to make this for some time and hadn't gotten the chance to. Well, I finally did 2 nights ago and it was OUTSTANDING! I would give more stars if I could. I had to use thawed broccoli as my hands cannot deal with frozen. I also made this roughly 6 hours ahead of time and refridgerated until baking time. NOT a problem; it was delightful, savory and comforting without all of the usual Ritz cracker carbs not to mention the fat calories from those nasty cracker and Cheeze-Whiz mixtures (which I used to like until I found this one!). I did use 1 tsp. of butter and 1/4C of plain bread crumbs scattered over the top and used a small onion, grated in the recipe. I,,,ahem,,,didn't get 8 servings though! It fed 2 people 2 meals. I served this as the main meal and it was gobbled up quickly! It 'sets' beautifully though remains creamy! A wonder what simple ingredients can do when combined. This is definitely a keeper for my comfort food cookbook and will make this at least weekly just for me!! That says a great deal for someone who hates to cook when living alone. One word,,,,,,YUMMY!! Thank you for sharing such a perfect dish.
Preheat oven to 350°F.
Butter a 9x13-inch baking dish.
Whisk together soup, mayo, egg, onion, salt, pepper, and paprika.
Crumble frozen broccoli into a very large mixing bowl.
I use an eight quart bowl I got from Wal-mart for only five bucks!
Pour soup/mayo mixture over broccoli and mix well.
Sprinkle on cheese and mix well again.
Spread and pat mixture into the baking dish.
Bake for 1 hour.
Let stand 10 minutes before serving.