Broccoli Cheese Casserole
Ang11002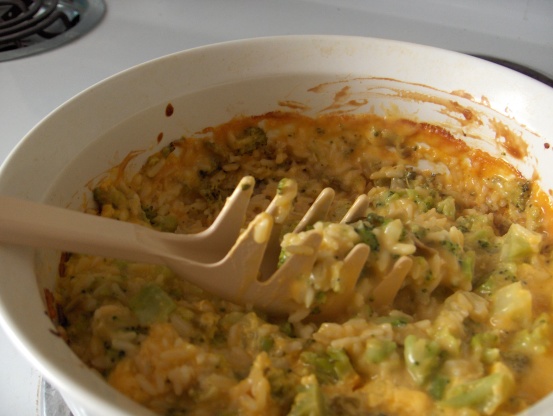 This recipe allows you to tailor your dish for the amount of time and availability of ingredients. This can be prepared two ways, with fresh or frozen broccoli, with cooked rice or uncooked minute rice, or with Cheese Whiz or colby cheese.
I love to tweak this dish! Today i used wild rice, broccoli, frozen peas, carrots and rotisserie chicken then threw it in the oven with a dusting of paprika on top. served with a spring mix or green salad and it is perfect! Yum!
283.49

g box frozen chopped broccoli or 1 head fresh broccoli

59.14

ml chopped celery (optional)

236.59

ml diced onion (optional)

226.79

g jar Cheese Whiz or 236.59 ml shredded colby cheese

283.49

g can cream of chicken soup or 283.49 g can cream of mushroom soup or 283.49 g can cream of celery soup

177.44

ml milk

236.59

ml instant rice, uncooked or 473.18 ml cooked rice
salt and pepper
If using fresh broccoli cook broccoli to desired tenderness. Sauté celery and onion in a bit of butter if desired. If using cooked rice, prepare rice. This can all be done ahead of time.
Mix all ingredients and pour into a greased 2 quart casserole with a lid (or cover with foil).
Sprinkle additional cheese on top.
Bake covered at 350ºF for 45 minutes if using uncooked minute rice, if using cooked rice bake until warm through and cheese is bubbly.