Broccoli Cheese Casserole
Parsley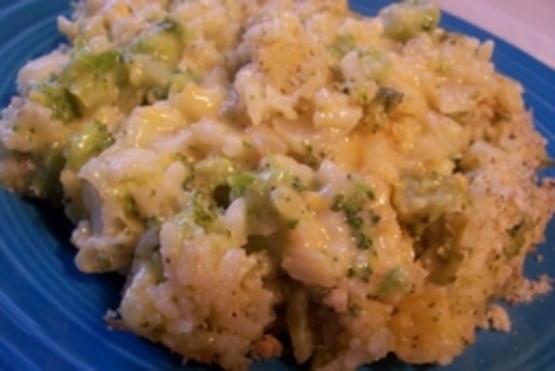 A delicious casserole made with broccoli and cheese, easy to make, but is very good!

This was easy and FANTASTIC! I am not a natural cook (I'm one of those people who has to work at it) and this was just great. I I ended up boiling my broccoli and mashing it vs. leaving large florets and going the micorwave route, but put the butter and onion in the micro to cook, then worked in the rest of the ingrediants as directed. This was VERY tasty and even something a non-cook can make. I'm so impressed!
2

cups broccoli, cuts

6

ounces Cheez Whiz (can use salsa flavored for added zest)
10 1⁄2 ounces cream of mushroom soup

1

cup white rice (measured uncooked)
1⁄2 cup butter
salt and pepper

1

small onion, chopped
Preheat oven to 350 degrees.
Cook rice, set aside.
While rice is cooking -- Place broccoli, butter, onion and salt and pepper in bowl. Microwave for 10 minute stir then microwave for 5 more minutes.
Microwave cheese wiz to melt.
Grease 9 x 13 baking pan.
Mix rice, cream of mushroom soup, cheese wiz and broccoli mixture together. Spread in pan.
Cover and bake 45 minutes. Uncover and bake 15 more minutes.
(note: you must use a shallow baking pan, I tried to bake in a deep casserole dish and it didn't solidify right).