Babycat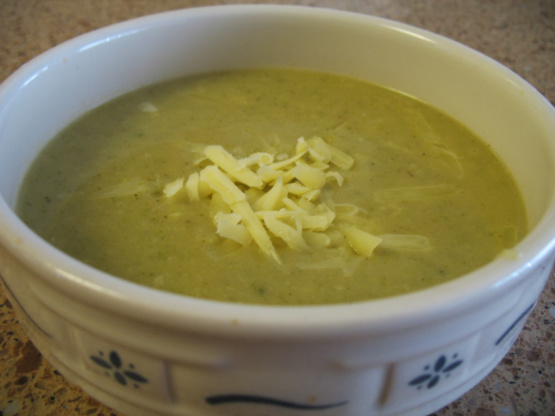 I just whipped this soup up and it came out nicely. It is a lighter version of this type of soup, but you could add some cream or whole milk to it if you prefer. Depending on how you like your soup, you can also remove some of the veggies for a chunkier version, or puree the whole pot for a smooth consistency. Enjoy!

This was very tasty although my potatoes took a while to cook. I also ended up adding more oil to the pot since my potatoes were sticking to the bottom of the pan. I enjoyed the fact that the recipe didn't call for any cream since I felt that it made it healthier. Thaks for posting. Made for New Kids on the Block 2010.
Heat the olive oil over medium heat, add the onions and garlic. Cook until onions are translucent.
Add potato and broccoli and cook until potato is tender, but not mushy. (Maybe 10-15 minute depending on the size of your potatoes.).
Add 2 tbsp of flour over the veg and stir to cook the flour.
Add chicken stock and stir. Bring to a boil and boil for 3-5 minutes. This will slightly thicken the soup.
Reduce heat on stove to low and use a blender, food processor, or immersion blender to puree your soup.
Once pureed, add the grated cheddar cheese. Stir to combine.
Season with salt and pepper.