Prep 15 mins
Cook 15 mins

This is an easy yummy soup! I "cheat" or rather amend this soup with a can of Campbell's Broccoli Cheese to help bring the flavors together. Don't worry, it's way better than just opening the can :) I serve this with a home made bread or focaccia! Submitted some corrections for the jerk of a critic/editor who, ironically, can't spell! But hey, thanks!
Directions
Melt butter in pot.
Add olive oil, onion, and garlic and saute until onion is tender.
Don't only use the florets skin the stalks and add them too -- they're great!
Add broccoli and water and bullion to barely cover the broccoli.
Bring to boil and cook until broccoli is al dente (which means "to the tooth" easy to bite through but still has firmness). About 10 minutes.
If you like it smooth puree all or part in a blender or stick blenders work great!
Add can of Campbell's Broccoli cheese.
Add a slurry of 1/4 c flour and evaporated milk. and check that it's thick as you like. -- if not thick enough, add 2T of flour for each quart of water.
Add cheese, salt, pepper, and other seasonings (like the curry, jakesoup jerk) to taste.
Finish with heavy cream to taste but you may no longer boil.
Like any soup it taste better the longer it sets so, fix it early if you can, but it's great fresh too.
Most Helpful
I thought this was very good. The curry powder adds a nice extra something to the flavor of the soup. I used cheddar cheese soup instead of broccoli cheese, but that's all I changed. Thanx for sharing this!

Yum! Thanks, I always like a good shortcut meal! I actually went into to this thinking I had a can of the soup but found out I was actually out. I improvised with a frozen broccoli and cauliflower in cheese sauce; defrosted and tossed it in when it calls for the soup and it turned out great. Added some extra cheddar cheese and Success! Thanks for sharing:)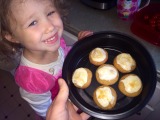 This recipe is poorly put together. They left out when to add the curry, and bullion cubes. (add these once your water is boiling) Seeing as how most people who are online finding recipes are learning how to cook they won't know how long it takes to cook broccoli to "al dente" (which by the way al dente is a term for pasta and less commonly rice and beans). Cook the broccoli until it is firm but not hard. About 10-15 minutes and the term is 2 heads of broccoli. What is a slurry of 1/4 flower? Do you mean 1/4 teaspoon, 1/4 tablespoon, 1/4 cup, 1/4 pound or maybe you mean fill 1/4 of the pot with flower? (its a 1/4 cup by the way) Lets move onto cream. Seeing as how "fresh cream" only comes from a cow people should know they are looking for Heavy Whipping Cream. I went ahead and used half and half instead and it works fine. The soup tastes great but the directions are extremely poor. I hope people find this review useful is cooking this soup.