Broccoli Cauliflower Tetrazzini
Parsley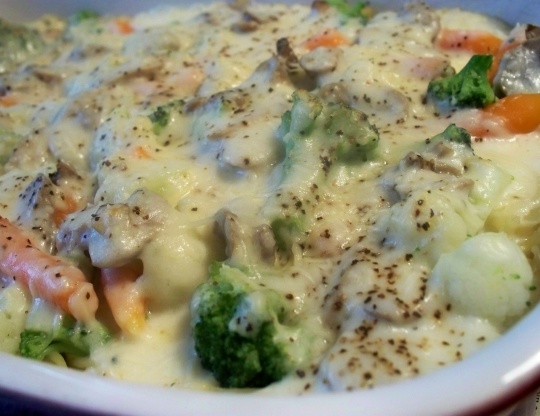 From Pillsbury Bake-Off winner Barbara Van Itallie.

Made this for Freezer Tag 2008. I really enjoyed the taste of this casserole! I used penne pasta and fresh veggies (only because I can't get frozen California blend or canned mushrooms in China...). I added some chopped onions to the sauce by using slightly more butter to cook them before adding the flour. It had great flavor! To freeze, I assembled through step 12 as directed. I put it in a foil lined pan and froze it until solid. Then I removed the pan and put the foil wrapped dish in a ziploc bag. I thawed in the refrigerator overnight and then baked as directed for 20-25 minutes.
Cook spaghetti as directed on package, drain.
Keep warm and set aside.
Cook vegetables until crisp, drain; set aside.
Heat oven to 400 degrees.
Grease a 13x9-inch baking dish.
Melt butter in a saucepan.
Stir in flour until smooth, gradually add milk; blend well.
Cook over heat for 6 to 8 minutes or until it thickens and boils, stirring constantly.
Stir in the pepper and 1/2 cup of cheese.
Put spaghetti into baking dish.
Top with vegetables and mushrooms.
Pour milk mixture over mushrooms; sprinkle with 2 tablespoons of cheese.
Bake for 15 to 20 minutes or until mixture bubbles.