Broccoli,cauliflower Salad
I love this salad. My daughter got this recipe from her boss. We have made it for several years now. It is a Huge hit at BBQ's, in fact everyone always wants a copy of the recipe.A friend sudgested I make copies of the recipe when I take it to gatherings. Great Idea! The best part about this recipe is you get a lil bit of something in every bite! That is why it is so important to cut your veggie's up into small bite size pieces. I also only use 1/4 to 1/2 cup of fresh green onions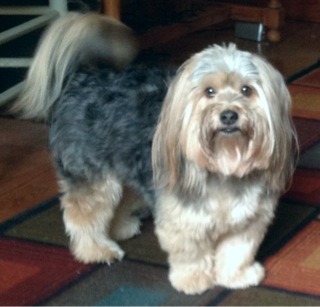 Great broccoli salad! This one is a little different with the cauliflower and sunflower seeds from the usual broccoli salad. Just enough dressing to give flavor but not drown the veggies. I used green onions (full amount) and for the dressing fat free mayo and splenda. Oh, I also used bacon bits for the cooked bacon, I was to lazy to fry some up. :) I mixed this all up and had leftovers and it tasted better the next day even with the cheese and everything mixed in. I think the flavors just had more time to mix and develop. Thanks for posting Peace, I could eat this for desert!
Mix all the veggies together.
You can add the dressing at this time.
Add your cheese, bacon,sunflower seeds and raisins just before you serve the dish or atleast within an hour of serving it.
Mix all together.