Broccoli Cauliflower Gratin
Derf2440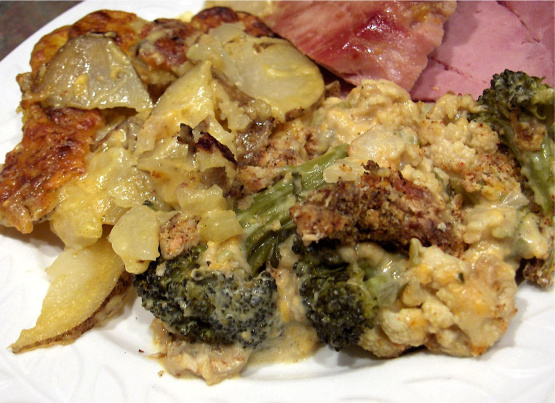 This uses reduced-fat ingredients, but you can use the full-fat variety instead, if preferred.

Pretty good I will be making this again.
Steam broccoli and cauliflower flowerets for 6-8 minutes, or until crisp-tender; drain well.
Preheat oven to 350*. Lightly grease a large (at least 4-qt baking dish).
Arrange steamed, drained flowerets in prepared baking dish.
In a bowl, mix together mayonnaise, cheddar cheese, parmesan cheese, green onions, garlic, dijon mustard, salt, pepper, and red pepper flakes. Pour this over flowerets in the baking dish.
Sprinkle with the breadcrumbs and paprika.
Bake at 350 for 25-30 minutes or until golden.