Broccoli Casserole Supreme
Parsley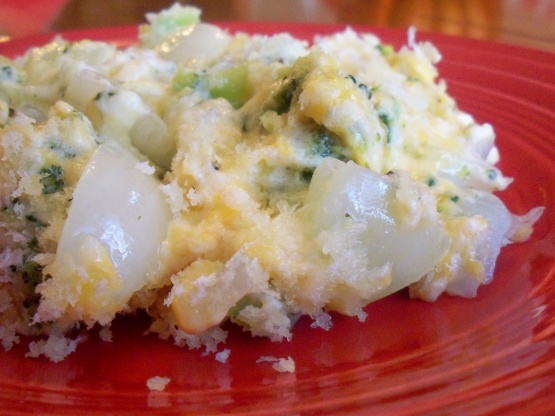 Definitely those who don't like broccoli will love this. A family favorite.

Yummy, yum yum!!! Rich, creamy and delicious. I loved the big chunks of onion. They gave the casserole a bit of a bite. This can easily steal the spotlight from your main dish. I used 1/3 less fat cream cheese and skim milk and it was still heavenly. Thanx!
Cook onion and broccoli in boiling water for 8 minutes. Drain and put in a large casserole dish.
Melt 2 tbsp butter over low heat. Add flour, salt & pepper. Add milk, stirring until thick and bubbly. Add the cream cheese, stirring until melted. Pour sauce over veggies. Sprinkle grated cheese over top.
Cover and bake at 350 degrees for 30 minutes. While cooking, melt 2 tbsp butter and mix with the breadcrumbs.
After 30 minutes, add the breadcrumbs to the casserole and bake uncovered for another 30 minutes.