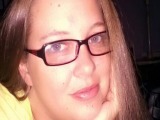 This is another recipe a friend recommended. It is wonderful if you like broccoli and cheese. A real family pleaser, great for pot lucks. Enjoy!!!!
2 (10 ounce) packagesfozen chopped broccoli
2 well-beaten eggs
1⁄2 cup butter
1 cup mayonnaise
1 can cream of mushroom soup or 1 can cream of celery soup
1 cup grated cheddar cheese
2 tablespoons grated onions
1 package crushed Ritz cracker, for sprinkling on top
Directions
Cook and drain broccoli according to package directions.
Mix all ingredients except crackers and put in a 9x9 inch baking dish.
Sprinkle crackers on top, along with some additional grated cheese to taste.
Bake for 1 hour at 300 degrees.
Most Helpful
I usually add 1 cooked chicken with broccoli. My family has loved this for years!
I make this a lot for Holiday dinners. It is so tasty! You can also substitute frozen chopped spinach for the broccoli. Also, ou can use low fat mayonaise and low fat "cream of" soup if your watching your fat intake. Everyone should give this recipe a try.
Very good. The first time I used Ritz crackers as a topping and think they are great. Will repeat this recipe.