Bri22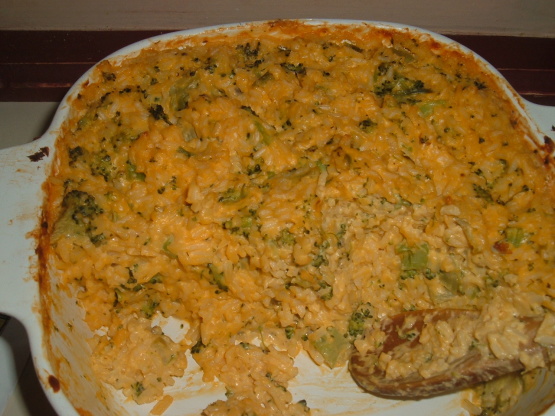 This recipe is very easy and delicious. It's great for casserole parties, but be sure to have the recipe on hand because in my experience people will request it. An old friend of my mothers gave us this recipe and it's been a favorite in our family since. The leftovers (if you have any) reheat very well. It's also a good way to get your child to eat broccoli.
1 1⁄2 lbs frozen chopped broccoli

1

onion, chopped
1⁄2-1 cup butter

1

can cream of mushroom soup

1

jar Cheez Whiz

4

cups cooked white rice
Melt butter in saucepan.
Add onion and frozen broccoli.
Cover and cook 15-20 min.
While broccoli is cooking make your rice.
(follow normal instructions on back of box) Combine broccoli and onions with rice in a 9x12 inch pan.
Add can of mushroom soup and cheese wiz and mix thoroughly.
(I do not add salt since cheese wiz is so salty and it seems to add enough salt for recipe).
Bake at 350 for 25 min uncovered.
Let stand about 10-15 min before serving.