KPD123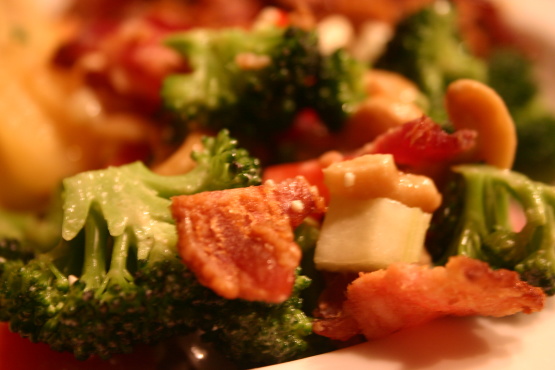 This recipe is different because it is a mustard based broccoli salad instead of mayo, which makes it great for picnics or bbqs. Can make up ahead of time and have chilling in fridge until ready to serve.

I made this for a vegan pot luck and omitted the bacon and cheese. Without those ingredients, the predominant flavor was the vinegar and I think it will be much better with the bacon and cheese added. Thanks for a new twist on the same old broccoli salad.
In a large bowl, combine broccoli, onion, apples and cheese.
In a small bowl, wisk together vinegar, oil, mustard, sugar and salt and pepper to taste.
Toss dressing with broccoli mixture. Refrigerate until ready to serve.
Toss with cashews and crumbled bacon upon serving.