Prep 10 mins
Cook 30 mins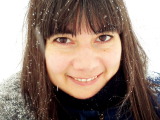 Another tasty, simple Campbell's Soup recipe. The first time I made this, I cooked the broccoli first and that was definitely a mistake. Though the taste was good, the casserole was just mush. The French fried onions add a nice dimension and texture.
Directions
In 1 1/2-quart casserole dish, combine soup, milk, soy sauce, and pepper.
Stir in broccoli and 1/2 the can of onions.
Bake, uncovered, at 350F for 25 minutes.
Top with remaining onions.
bake another 5 minutes.