FolkDiva
From The Little Mushroom cookbook. This is an easy, delicious quiche that is great for brunch or a cozy dinner.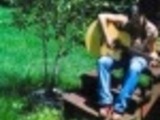 This hearty and delicious quiche made for a quick and easy dinner. It gets all 5 stars from me! Not only did I find it to be very very tasty....but my picky BF (who doesn't think he likes quiche) gobbled this up! I've always loved quiche....but found the fact that this one is so chock full of "stuff" and makes a less "eggy" quiche to be a most pleasing variation. (I used fresh, steamed broccoli and a refrigerated pie crust that I only pre-baked for about 7 minutes. Otherwise, made as directed.) Thank you for sharing!
Bake pie crust°F at 400 for 10 minutes, cool.
In a large bowl, combine broccoli, onion, bacon, and cheeses. Season with salt & pepper. Place into cooked crust.
In medium bowl, combine eggs, sour cream, thyme, and Worcestershire. Pour over broccoli mixture in crust.
Bake at 400°F for 40 minutes, or until knife inserted in center comes out clean.