Broccoli, Bacon and Cheese Salad
teresas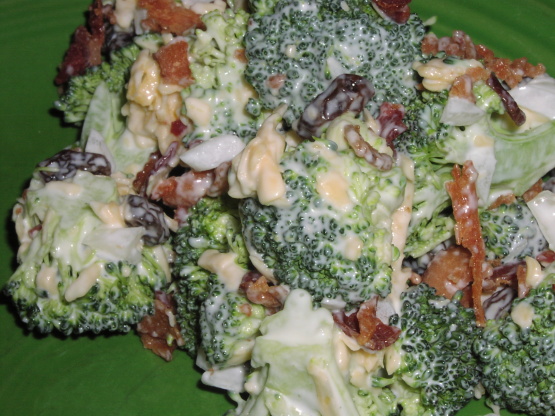 This is a delicious summer salad, however I make any time of the year. It is always a big hit with family, friends and at church functions. We love it. It is easily made as a lowfat version, using low fat cheese and low fat mayo, even can use Splenda instead of sugar. Serving size is 1/2 cup. I obtained this recipe from Pillsbury Simple Summer Recipes Cookbook in approximately 1990. This is my first post to Recipe Zaar. I really hope you enjoy it.

What an easy dish to throw together...hubby wasn't happy when he heard we were having raw broccoli...but...he loved it!...I was out of red onion so used sweet onion instead...otherwise made as posted...this is a keeper...it's great for the hot summer months...thanks for posting it! =)
Mix up your dressing ingredients and set aside.
Mix all the dry salad ingredients (not the bacon) in a large salad bowl.
Pour the dressing over the other salad ingredients, mix well.
Mix in the bacon just before serving the salad.