Broccoli and Tofu With Spicy Peanut Sauce
fawn512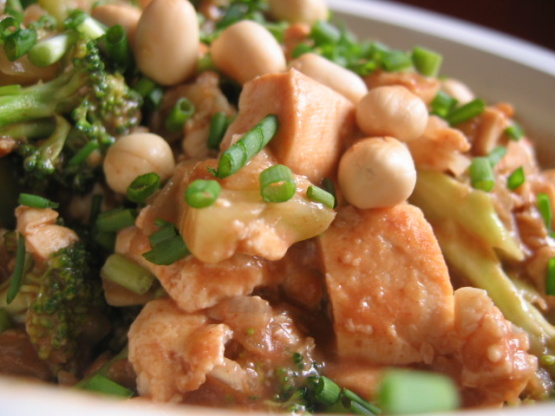 This is a really yummy vegetarian dinner option. Even my non-vegetarian husband said it was great. Don't neglect to freeze/thaw/press the tofu as this will give the tofu a better, chewier texture. For additional flavor you can marinate the tofu in a bit of soy sauce and sesame oil.

Top Review by Khana
This was very good. My 2 year old loved it! I did make a few changed though. I use match stick cut carrots instead of broccoli, cashews and added some cilantro and lime juice at the end. It really toned down the vinegar and balanced out the flavor nicely.
For the Sauce: Place peanut butter and water in a sauce pan, heat on low heat and whisk until mixture is uniform.
Add vinegar, honey, soy sauce and red chili flakes.
Set aside.
In a wok, heat half the oil, half the ginger, and half the garlic.
When hot, add tofu and stir fry for a few minutes.
Add tofu to sauce and set aside.
To wok add the rest of the oil, ginger, garlic, and onion.
When hot add the broccoli (which should be chopped into manageable bits, including the stems) and stir fry a few minutes.
Add the soy sauce and stir fry until broccoli is just tender and bright green.
Add sauce to broccoli and stir until everything is coated with sauce.
Serve immediately over steamed rice.
Top with lightly toasted chopped nuts and scallions.