Broccoli and Stilton Cheese Soup
Parsley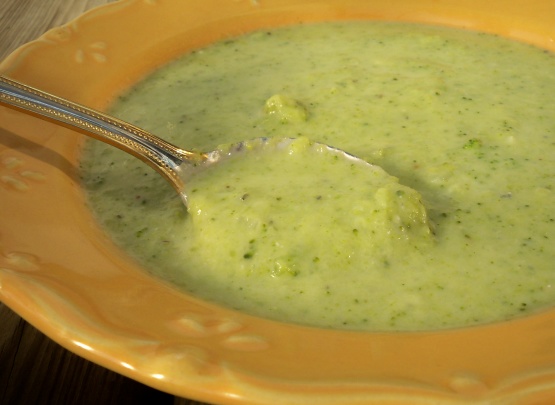 A classic winner, even those who don't really like blue cheese or indeed broccoli are normally won over by this one. Use Danish blue or Gorgonzola or whatever you cheese you have in. Stilton works best though, so try to stick with that. For those who really despise blue cheese, I'm sure white Stilton would work well too. The bay leaf and lemon juice are not essential but I find they heighten the taste slightly

Loved, loved loved it!!! I did use the stilton cheese and maybe used a bit extra. ;) Even though the recipe has very little ingredients, it still beats the traditional broccoli cheese soups. My was super thick after pureeing, so I added just a 1/4 cup or so of skim milk. Yum! Thanx for sharing!
350

g broccoli (one medium or large head)

1

small onion, chopped

1

pint chicken stock or 1 pint vegetable stock

100

g stilton blue cheese

1

bay leaf
1⁄4 teaspoon salt (or to taste, remember the cheese and stock are already salty)
1⁄4 teaspoon pepper (a good grinding)

3

drops lemon juice
Put the stock into a large pan and bring to the boil.
Separate the stem of broccoli from the tender florets.
Chop as much of the stem as you can and boil for 2-3 minutes along with the onion before adding the florets.
Lower the heat to medium and cook for 8 minutes, put a lid on the pan but leave a gap.
Remove from the heat, remove the bay leaf, add the cheese and blend until smooth using a hand or jug blender.
Add the salt, pepper and lemon juice, taste and adjust seasoning if necessary and serve with a nice bit of bread.