Broccoli and Soba Noodles
Bergy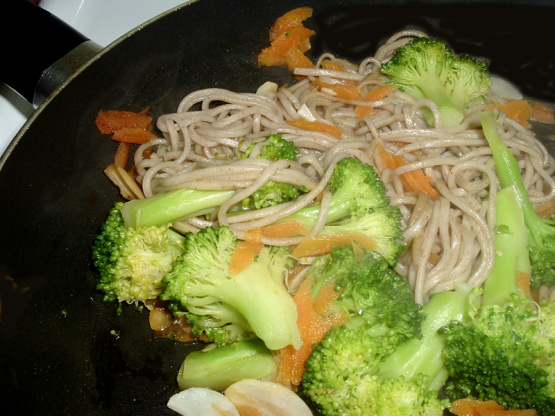 Soba noodles are popular in japan and have a unique nutty flavor that compliment the broccoli in this dish very well. I first tried soba noodles when my roomate made them for dinner and fell in love with them. I hope you will too.

This was so delicious, and we just love soba noodles! Instead of just broccoli, I added broccoli, carrots (julienned), sugar snap peas (halved), celery (thinly sliced on bias), white onion (thinly sliced), skinny green beans (halved), and red bell pepper (thinly sliced). I also steamed the veggies until crisp tender before frying, so everything would be the same consistency). Yummy! As some have commented, I wished I had doubled the sauce recipe as we too like it a bit saucier, and will do so the next time around. I will probably also add toasted sesame seeds, and maybe chopped green onions on top, but this recipe worked perfectly untouched! The proportions of the ingredients for the sauce were perfect in our opinion. Thanks for a delicious recipe that I will definitely make again!
bring 3 quarts water to a boil.
and add noodles cook for 10 minutes until al dente.
When noodles are done drain and rinse with warm water and drain again.
warm oil in a skillet or wok over medium heat.
mix together soy sauce, sugar, sesame oil, cornstarch, and vinegar.
Whisk until smooth.
add garlic and sautee until golden brown.
add in broccoli, water, and carrots.
Cover and cook for 5 minutes until the broccoli is tender, but still bright green.
stir in the soy sauce mixture and cook for 3 minutes until liquid thickens and then reduce heat to low.
add the cooked and rinsed noodles to the veggies and stir to coat.