Annacia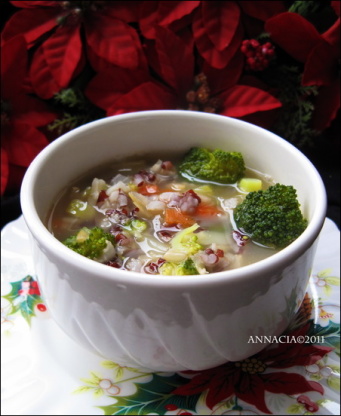 My husband asked me to make him something relatively mild for his stomach. He was coming off a cleans and didn't want to upset his stomach too much right off the bat. I thought soup should do the trick. He loved it. Hope you do as well. Note: I used Great Valley Rice Medley from Costco

This is wonderful. I'd love it at any time of year but after all of the Christmas richness it's a double delight. I used a red rice medley that added a great touch of color as well as a lot of texture. There is a whole lot of eye appeal and taste to enjoy with this recipe.
Cook rice medley as per package directions until just done.
About 30 minutes.
Do not drain.
In a large soup pot, on medium heat, melt butter with oil.
Add carrot/onion and saute until onion is tender.
Add garlic and saute until just fragrant.
Add broccoli and also saute for 5 minutes.
Add stock and rice with liquid.
Simmer for 20 minutes.
Season with salt and pepper to taste.