Broccoli and Potato Salad
Tisme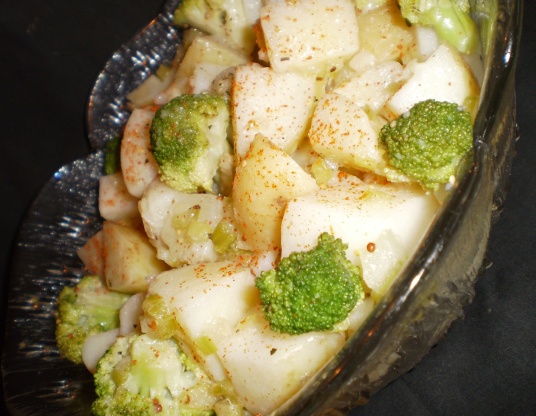 This broccoli and potato salad goes great with just about nay meal. Pol Martin Cookbook.

Top Review by Jen T
"Very tasty" was DH's comment. Very easy to make with on hand ingredients. This will be a real keeper for us. I am still giving this 5*s even though I changed the celery to finely sliced red onion as we are not really a fan of celery but I feel that this in no way detracted from the recipe. Really enjoyed this one. :)
cut cooked broccoli into florets and place in large bowl. add the potatoes and celery.
mix vinegar, oil, salt and pepper together in small bowl. pour over broccoli and toss to evenly coat.
season with salt, pepper and paprika.
sprinkle with parsley and serve.