Broccoli and Pasta Bianco
truebrit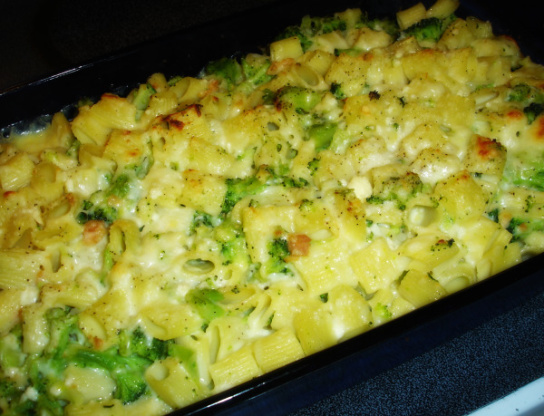 I found this in one of those little check stand cook booklets. This one was in Campbell's - Slow down to Cook Faster. I enjoyed it, and although it's shown as a main course, I'd use it more as a side dish. It does border on the bland for some, so experiment with spicing it up a bit. I found my 2-quart baking dish wasn't large enough and had to transfer to a larger one.

I was looking for a broccoli and pasta dish that didn't contain meat, and wasn't terribly high in calories, and this fit the bill! I followed the recipe, except that I mixed the soup, milk & pepper in a mixing bowl, and poured it over everything else when it was ready to go in the oven. I used a glass 13 x 9 x 2 baking pan, but found it wasn't really large enough to contain all the ingredients. I ended up leaving out a little bit of the pasta & broccoli so that it wouldn't overflow. This was very good, and something that I'll definately make again, in a larger pan! Thanks! :)
Cook penne pasta according to directions on package.
Add broccoli to cooking pasta for the last 5 minutes or so of cooking time; drain.
Mix soup, milk and pepper in 2 quart shallow baking dish.
Add pasta/broccoli mix, 3/4 cup mozzarella cheese and 2 TBSP Parmesan cheese; mix gently.
Top with remaining cheeses.
Preheat oven to 350°F.
Bake, uncovered, for 25 minutes, or until cheese is melted.