Broccoli and Garlic Breadcrumb Spaghetti
loof751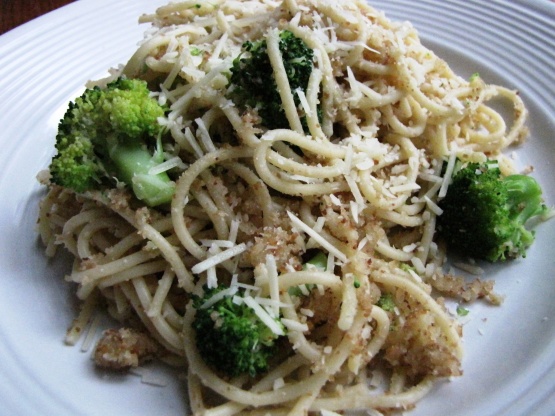 This fast-to-make pasta dish is a good way to use up leftover stale bread and, at the same time, to include a healthy green vegetable in your diet! Adapted from a recipe in 'The Australian Women's Weekly's Cooking on a Shoestring'. Adjust the garlic to your liking and don't include the lemon juice if you don't care for citrus flavours! You could, of course, use another vegetable in place of the broccoli and you could add onion. If you're not keen on cumin, omit it and add a favourite herb. I've also posted my adaptations of some other recipes from 'Cooking on a Shoestring': Potato and Rosemary Pizza and Smashed Roast Potato and Thyme Gratin.

This was very good. Like another had said, it was like having your pasta and garlic bread in the same dish. I've crumbled my garlic bread into my pasta, but hadn't thought to do it this way before. A very simple sauce with a fresh taste. I did skip the cumin, but only because I was out at the time. I think it's a great idea that I want to try with brussels sprouts and bacon now. Made and Reviewed for 123 Hit Wonders. Thanks! :)
Remove and discard the crusts from the bread; process the bread until it is fine (actually if the bread is a commercially produced sandwich loaf, I've always found it's fine to include the crusts). Use your culinary discretion.
Cook the pasta in a larg saucepan of boiling water until it is tender, and drain.
Meanwhile boil, steam or microwave the broccoli until tender, and drain.
Heat the oil, butter and lemon juice (if using) in a large (preferably non-stick) pan; add the cumin and make sure that it is mixed through the breadcrumbs; cook the breadcrumbs and garlic until they are browned and slightly crisp.
Combine the pasta, broccoli and breadcrumbs in a large bowl.
Serve sprinkled with the shaved parmesan.