Broccoli and Egg Sandwich

This was a specialty of my Grandma's. I remember when I was a kid she would sometimes make this for my mom to take for her lunch at work. Eventually Gram wound up sending about 6 sandwishes everytime because my mom's coworkers all wanted it when they smelled it. Grandma didn't measure anything, so these are estimates.
Directions
Chop broccoli; heat in pan with olive oil, sprinkle with garlic powder and seasoned salt.
Beat eggs, milk, salt and pepper. Pour eggs over broccoli and scramble together (do not overcook).
When almost done, place a slice of provolone cheese over the top to melt.
Serve on Italian bread.
Reviews
Most Helpful
This is a great and easy to make recipe for a weekday lunch! Next time I'll probably add some ham in there too and experiment with the seasonings a little. Love that it's served on Italian bread too as it's my favourite! This was delicious!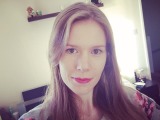 This was very good and easy, I added a little ham to mine and we had it for breakfast. I also used a mixture of mozarella and cheddar cheese. I served mine over an english muffin. Very healthy start to the day.
This was a really good sandwich, and I loved it very much. I used an extra slice of chees (because I love cheese). I used regular salt as I couldn't find anything from Lawry