Broccoli and Chicken Stir-Fried Rice
Prep 15 mins
Cook 15 mins

This is adapted from Cooking Light, July 2007. I really think it is one of my favorite stir-fry recipes out there, It is also very flexible...I'm sure you could sub in other veggies for some of the broccoli, like water chestnuts or carrots or mushrooms. Let your imagination run wild :). The original recipe calls for 2 T reduced-sodium soy sauce plus 1/4 t table salt stirred in at the end, but I think it is salty enough as written here.
Directions
Heat oil in a large nonstick skillet over medium-high heat. Add broccoli and onion; sauté for 5 minutes. Add 1/4 cup broth; cover and cook for 3 minutes. Remove broccoli mixture from pan.
Place pan over medium-high heat. Add rice; cook 5 minutes, stirring occasionally. Add broccoli mixture, garlic, ginger, pepper, and chicken; toss well.
Combine remaining 1/4 cup broth, soy sauce, oyster sauce, vinegar, and cornstarch; add to pan. Bring to a boil; cook 1 minute.
Reviews
Most Helpful
* Reviewed for ZWT6 Whine and Cheese Gang * Very easy stir-fry. Used some marinated chicken from Asian Grilled Chicken Salad, along with all gluten-free ingredients- broth and sauces. Braggs is also gluten-free. I also used ready cooked brown rice. I think next time for this dish, I would cut back on the garlic, ginger and chilli and perhaps hold back some of the liquid. Overall a good rice dish that could easily be served as a main or as part of a banquet style dinner. I'm sure for vegetarians that you could easily sub in tofu for the chicken or just leave out the protein altogether. Photos being posted also

My DH loves fried rice, so I had to try this easy recipe; came out fantastic; love the addition of ginger.I did not have Braggs liquid aminos,but will look for it. This one is a keeper. I made this for ZWT6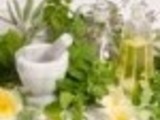 Very good all-in-one dinner recipe, which we enjoyed very much. This was my first time using "Braggs liquid aminos" and I was impressed. A lot like soy sauce, but much better for your health. I agree with smellyvegetarian about the salt, there is no need to add any extra while preparing this dish. I used 7 cups of broccoli florets and 3 cups of cubed chicken (my husband likes lots of meat in his stirfrys). I really liked the addition of the red pepper flakes and probably added about 1 teaspoon to give it some heat. I appreciated how healthy this meal was. Next time I may add some chopped nuts to give it even more dimension. Thank you for the yummy dinner!