Broccoli and Cheese Topped Potatoes
jenne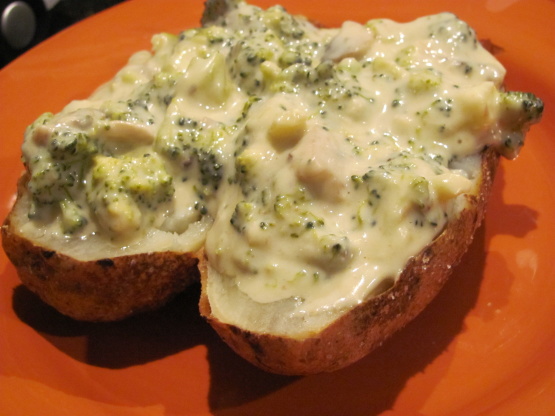 This recipe is from my "Irish Cooking" cookbook.

loved it, my family appreciates your time in posting this!...do you by any chance have the bibliographic info for the cook book?
Pierce potatoes several times with fork. Place in microwave oven on paper towel. Microwave on HIGH 15 minutes or just until softened. Wrap in paper towels; let stand 5 minutes.
Bring water to a boil in medium saucepan over medium heat. Add broccoli. Cook 5 minutes or until broccoli is crisp-tender. Drain. Add milk, cottage cheese, mustard and red pepper flakes to broccoli in saucepan. Bring to a boil. Reduce heat to medium-low; remove from heat.
Combine 3/4 cup cheddar cheese, mozzarella cheese and flour in medium bowl. Toss to coat cheese with flour; add to broccoli mixture. Cook and stir over medium-low heat until cheese is melted and mixture is thickened.
Cut potatoes open. Divide broccoli mixture evenly among potatoes. Sprinkle with remainig 1/4 cup cheddar cheese.