Broccoli and Cauliflower with Pine Nuts and Raisins
Dee514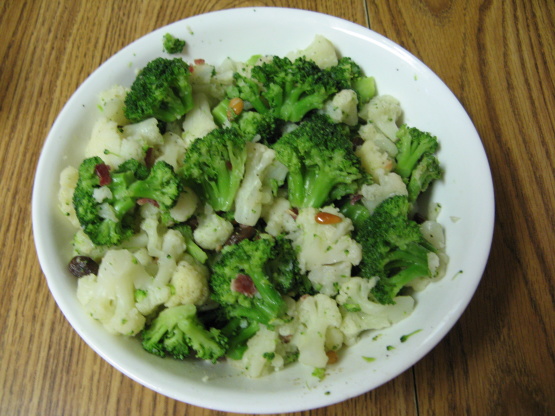 This is sooo good! For a slightly different twist, you could also drizzle with red wine vinegar or lemon juice.

Cg, this was great I served it tonight along side recipe #51401 Parmesan Chicken. I loved the addition of the pine nuts and bacon. I put the cauliflower in the boiling water first for 3 minutes then the broccoli into the same pan for an additional 4 minutes. The veggies came out just great and held their shape nicely. Your veggies next to the chicken and a leaf of lettuce topped with some cottage cheese… Well, as I said in the other review, "proved to be an over all winning color combination that was very appealing to the eye". It looked like it took me all day, but I had everything on the table in 40 minutes. My only regret is that we ate the food so fast I did not get to take a picture to post! Thanks, I'll be making your recipe on a regular basis!!
Cook broccoli and cauliflower just until tender (about 5-7 minutes after it comes to a rolling boil), and drain.
Meanwhile soak raisins in very hot water to plump them up a bit.
Heat oil over medium high heat, and sauteé garlic just until slightly golden, then add pine nuts and sauteé another minute.
Pour garlic/pine nut oil over broccoli and cauliflower and toss with drained raisins and bacon.
Salt and pepper to taste.