Broccoli and Cauliflower Stir Fry
vrvrvr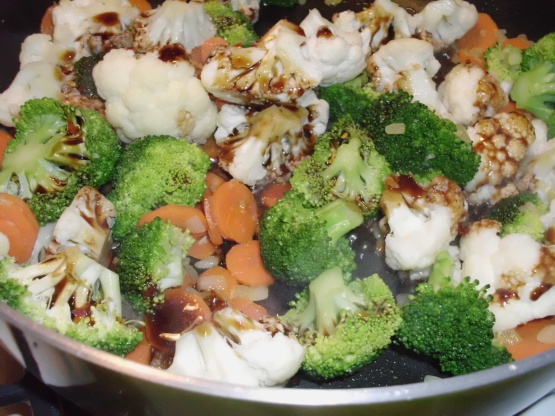 A very healthy, easy, tasty Asian dish that reheats well for lunch the next day! Can be served as a main dish or side dish. Check out the calorie count! Great with rice!

Top Review by vrvrvr
So delicious! I reduced the garlic and ginger. I used half a head of cauliflower and about an equal amount of broccoli, briefly steamed before adding to the pan. I thought the sauce was a little intense so I added a healthy splash of chicken broth to it. Served with rice and egg rolls. What a great dinner, warming and flavorful, and so healthy. Love it!
Cut broccoli and cauliflower into smaller pieces.
Heat water in a large wok to boiling and add broccoli and cauliflower.
Let sit for 2-3 minutes, then remove from wok, drain and rinse with cold water.
In same wok, heat 1-2 T oil on high. Add ginger, garlic, carrot, and green onion. Cook until garlic starts to turn brown. Be careful not to overcook!
Add broccoli and cauliflower and stir.
Add sauce, stir, and let simmer for several minutes.
Serve immediately!