Broccoli and Cauliflower Gratin
Prep 10 mins
Cook 20 mins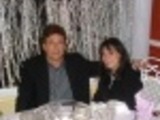 Holiday Side Dishes From Woman's World Magazine 11/23/04. No one will believe this yummy dish, topped with a creamy Gouda sauce, starts with a packet of sauce mix.
Directions
Preheat broiler. In pot of salted, boiling water cook broccoli and cauliflower until tender, 5-6 minutes; drain. Transfer to ungreased 2-quart baking dish.
Meanwhile, in pot over low heat melt butter. Add leek and garlic; cook, stirring often, until lightly browned, 3 minutes. Add wine; cook 1 minute.
Increase heat to medium; stir in milk and sauce mix. Bring to boil, stirring. Reduce heat to low; simmer, stirring occasionally, 3 minutes. Stir in 2 cups cheese. Pour sauce over vegetables; sprinkle with remaining cheese. Broil until cheese is melted.
Most Helpful
Yum! Great flavor, the leaks add a very mild onion flavor and slight hint of sweetness. Really a great recipe. Thank you!

I tagged this in Kid Friendly tag, but made a couple of changes that may have affected the outcome. I had brocc/cauli/leek that all had to be used. However, I only had sharp cheddar cheese, alfredo sauce mix and Sake (was out of other wine). It turned out good, but very liquidy. I would reduce the milk next time to 3/4 or 1 cup to make it more of a creamy cheese consistency.

I made this for dinner guests tonight and it got rave reviews.....even though I used the package of cheese sauce from my Mac n Cheese box because I had no other. This was pretty simple to put together and the Gouda makes it fantastic. Definitely a keeper.