Broccoli and Carrots in Creamy Parmesan Sauce
Parsley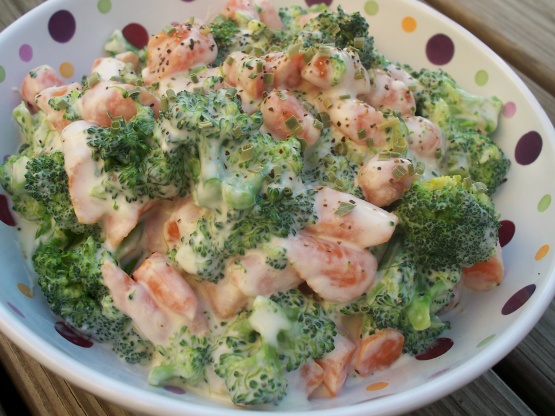 From BC Simple Winter Meals. Cheesy, but not the usual cheddar sauce.

I made a double batch of sauce and mixed one with just the broccoli and carrots and one with broccoli and cauliflower. Both were great, I did end up doubling the cheese on the broccoli and cauliflower - I think the combo of the Broccoli and Cauliflower overpowered the cheese.
Place broccoli and carrots in 1 inch of water in a saucepan and bring to a boil.
Boil 5-7 minutes or until vegetables are crisp-tender or done to your liking. Drain and keep warm.
While vegetables are cooking, combine cream cheese, parmesan, milk, butter, garlic in a small saucepan over medium heat. Cook mixture, stirring constantly, until cheese melts and mixture is smooth, hot and creamy. Do not boil cheese sauce.
Season with salt and pepper to your taste.
Plate hot vegetables and cover with cheese sauce.
Sprinkle with snipped chives.