Broccoli and Bow Tie Pasta
vrvrvr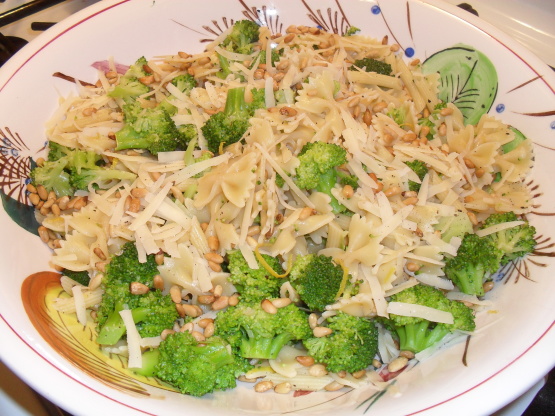 This is from an episode of Barefoot Contessa, I didn't find it posted, so I thought I'd copy it down here for "safe keeping". Quick, simple and GOOD!

Top Review by vrvrvr
Outstanding, fantastic and also fabulous! I may have used slightly less broccoli. I also did not add 2 t. salt, as directed in step #3. (I used less.) But I stuck to the plan for everything else and this turned into a dish that we all thought was...well...see adjectives above. I do think all ingredients need to be premium (i.e., fresh) to get these excellent results. I served the pasta with crunchy French bread, seedless red grapes and cold pinot grigio. Perfect Friday night dinner and something I will most certainly make again! Thanks for posting this winner!
Cook the broccoli for 3 minutes in a large pot of boiling salted water. Remove the broccoli from the water with a slotted spoon or sieve. Place in a large bowl and set aside.
In the same water, cook the bow-tie pasta according to the package directions, about 12 minutes. Drain well and add to the broccoli.
Meanwhile, in a small saute pan, heat the butter and oil and cook the garlic and lemon zest over medium-low heat for 1 minute. Off the heat, add 2 teaspoons salt, the pepper, and lemon juice and pour this over the broccoli and pasta. Toss well. Season to taste, sprinkle with the pine nuts and cheese, if using, and serve.
To toast pine nuts, place them in a dry saute pan over medium-low heat and cook, tossing often, for about 5 minutes, until light brown.