GaylaJ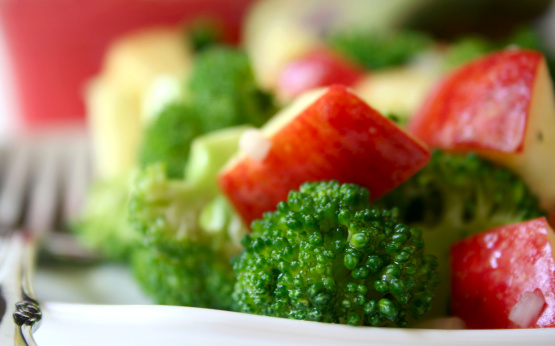 I like this version because there's no mayo- just a light Dijon dressing that enhances the flavors. This is best when chilled overnight. Adjust sugar to taste, before dressing the salad. Cooking time includes chilling.

Top Review by MollyJ
I liked this a lot. It is tasty and DH said who would have thought of putting apples with broccoli. Very light and tasty and I thought it did okay in the fridge for at least a couple days; after that the apples become a little too vinegar saturated though I ate it all. It begs to be messed with not for the sake of improvement but because it is adaptable. I had only purchased a couple of broccoli crowns so I added in some chopped celery and that was very good, too. Well worth repeating.
In large bowl, whisk together sugar through salt. Add broccoli, toss well. Add apples and onion, toss again.
Cover, chill at least 4 hours.