Annacia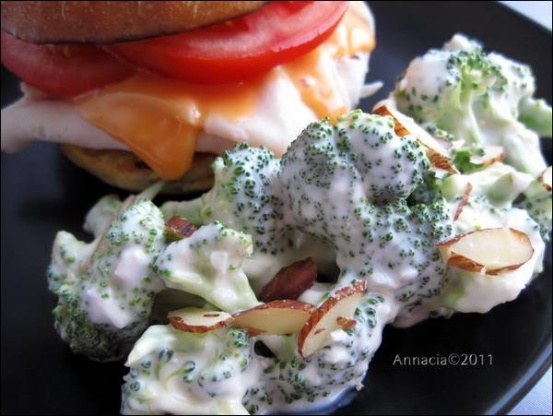 This salad is ready in minutes and is terrific as a side dish for lunch or a picnic. If you like your broccoli to be softer, you can boil it for 2 minutes and put it in ice water right away to cool it down. I did not include the 1 hour refrigeration time. Enjoy!

Yummy salad. Broccoli is my fav veg and this is a very simple and quick way to enjoy it. I put in a little extra cider vinegar so it had a nice little tang. The raw broccoli and almonds made for a lovely firm and crunchy way to enjoy the veg. This is simply perfect for summer. :D
Whisk mayonnaise, cider vinegar and sugar in a medium bowl.
Stir in broccoli and red onion. Toss until coated.
Refrigerate at least 1 hour. Sprinkle with toasted almonds.