Hey Jude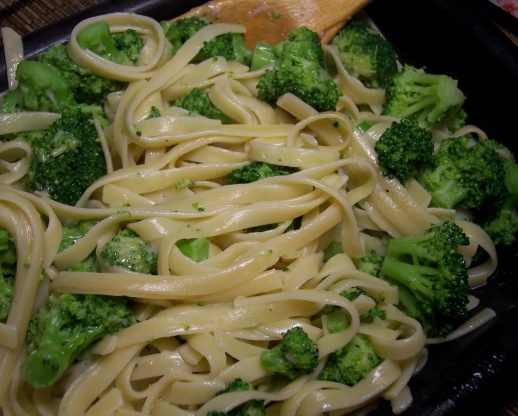 If you think Alfredo sauce- that divine mixture of butter, cheese and cream-takes time and patience and is best left to those in white toques, this 15 minute recipe may change your mind. The recipe is courtesy Real Simple Solutions.

We found this a litle dry. Might try it again adding more pasta water to the sauce.
Place the salt in a large pot of water and bring to a boil; add fettuccine and cook according to package directions for al dente; during the last 3 minutes of cooking, add the broccoli.
Drain in a colander, RESERVING 1 cup of the WATER; set aside.
Place the butter in the pot, reduce heat to medium-low ,and stir until melted; add 1/2 cup of the reserved pasta water, then stir in 1/3 cup of the Parmesan cheese. Add the fettuccine and broccoli and the cayenne and nutmeg, if desired; toss.
Remove from heat and sprinkle with another 1/3 cup of the Parmesan cheese and the pepper, toss again. Adding more pasta water if the fettuccine is too sticky; serve in bowls and sprinkle with the remaining Parmesan cheese, enjoy.