Broccoli Aglio Olio (With Garlic and Olive Oil)
Annacia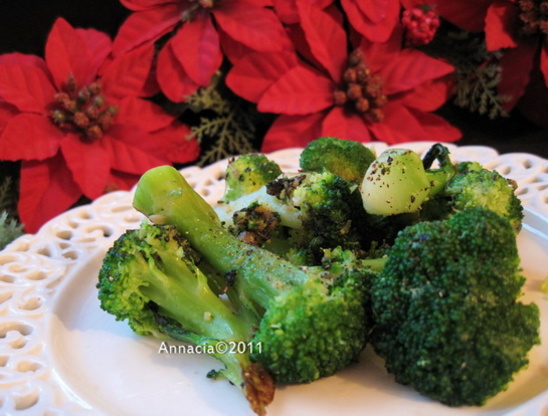 Simple and delicious. A true Italian staple for any dinner. This recipe is just about the ONLY way my mother and grandmother cooked their vegetables!

As a true broccoli lover I found this a great tasting, low fat, pleasure. I made just one serving for myself but I have more broccoli in the fridge, yay! I pre-cooked it very lightly and after the pan saute it was still tender-firm (can't say it was crisp,lol) with beautiful summer green color. Cretainly a keeper.
Steam broccoli over a pot of boiling water, or in a veggie steamer, for about 5 minutes.
Feel free to steam more or less, depending on how your family likes their veggies cooked.
Keep in mind that you will also be sautéing the broccoli in the next step.
In a large saute pan, heat olive oil over medium heat.
Add the garlic and saute for about 45 seconds to impart its flavors into the oil.
Before the garlic begins to brown, add the red pepper flakes and broccoli to the pan and cook for another 5 minutes, or until cooked to your liking.
Season with salt and pepper and serve.