diner524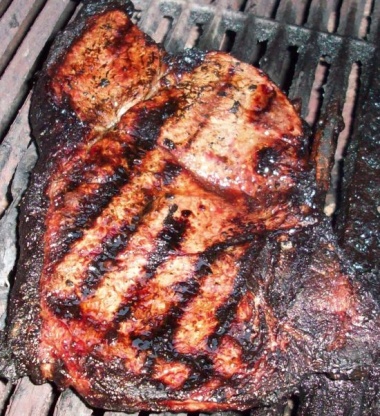 Our family really enjoys grilled steaks and have found this cut to be more flavorful and easier to cook than the tenderloin. This easy recipe gave us just the right spice to a great cut of steak. We named the entree the Broadway because of the classy taste. Serve with baked potato and a fresh garden salad. Top off the evening with a raspberry Merlot.
We made this for dinner last but with a couple of changes. For some reason, my grocery store did not have any savory, so I added 1/4 teaspoon ground thyme and I also used a top sirloin. We enjoyed the marinade flavor and served the steak with twice baked potatoes and a salad. Made for Spring 2008 PAC. Thanks for another great recipe Major!!!!
Trim most exterior fat from strips.
Set aside.
Mix oil, Worcestershire, Calvados, pepper, savory and the steak rub in a glass mixing bowl.
Put steaks in a gallon zip-lock bag.
Pour marinade over steaks.
Close.
Put bag in dish.
Let stand in refrigerator for two hours.
Remove steaks from bag and pat dry with paper towels.
Grill steaks on a medium high grill 7 minutes on each side.
Remove from grill.
Let steaks rest under aluminum foil for five minutes before slicing.
Serve with your favorite steak sauce.