British-Style Cheese and Onion Sandwich for 2
ImPat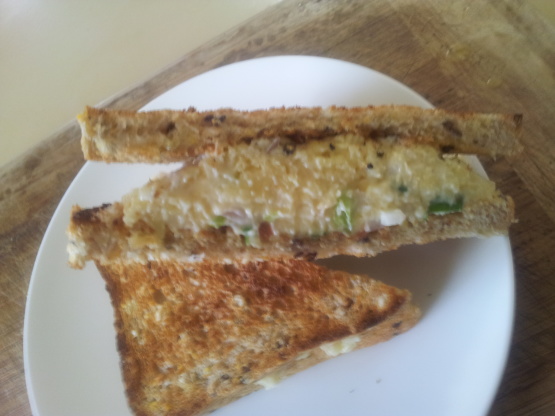 About a week ago I found a really good quality imported "extra mature farmhouse cheddar" cheese from the UK and decided to test it in this recipe which was recently featured on thekitchn.com. Use the best ingredients you can if at all possible: homemade bread and mayonnaise, etc. Q: I don't intend to step on any toes (especially British ones) but don't you think bacon/rashers would be delicious in this sandwich? A. yes. The bacon is optional of course. The husband discovered my secret stash of the farmhouse cheddar cheese and now most of it is gone! :/ Serving suggestion that we enjoyed with our sandwiches: C G's Baked Barbecue Beans, hard boiled eggs and fresh fruit. I believe this is my first English recipe posted here but the fine English people have no cause for concern.

Top Review by WiGal
A very nice sandwich. We reduced the onion to 1 tablespoon --thought that was too much frankly. Evidently the Brits like raw onions a lot more than us. LOL! Omitted the salt. Thanks for a nice lunch, Cookgirl. Made for Unrulies Under the Influence during ZWT6 tour of Great Britain.
4

ounces cheese (such as Cheddar, Double Gloucester, Cotswold, or Red Leicester, for example)

2

tablespoons finely chopped sweet white onions

2

tablespoons finely sliced scallions (I used a combination of scallions and chives)

2

tablespoons mayonnaise
salt and pepper

4

slices bread (toasted or untoasted)

2 -3

slices bacon, crisply cooked
butter (leftover Irish butter from St. Patrick's Day...)
Grate the cheese. Combine in a bowl with the onions and mayonnaise. Add salt and pepper to taste.
Spread the mixture between slices of buttered bread.
If adding the optional bacon, arrange the slices on the bread.
The filling also makes an excellent topping for baked potatoes (with the bacon crumbled).