British Breakfast in Bed - Boiled Eggs and Marmite Soldiers
Bergy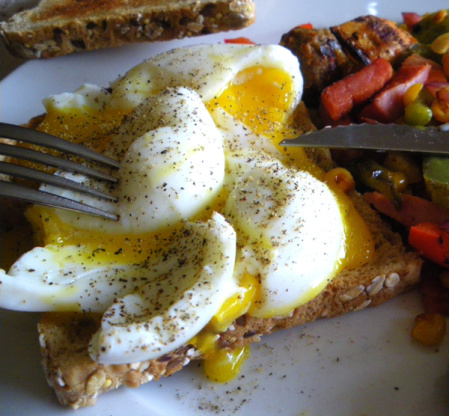 The quintessential British breakfast, and perfect for breakfast in bed - Boiled Eggs and Marmite Soldiers are a British culinary institution! The following instructions give you a perfect soft-boiled egg, suitable for "dipping" with your "soldiers"! You either love marmite or hate it, don't use it if you cannot find it locally or just don't like it!! You must still cut your toast into "soldiers" however!!

Top Review by ImPat
I made 4 eggs (at room temperature) and they were all cooked to perfection in the 4 minutes and the DM had 2 and I had 2 and we each had one slice of toast each and half had vegemite and half had marmite and the vote was 1 each as I preferred the vegemite but DM preferred the marmite but we both thoroughly enjoyed our breakfast, thank you French Tart, made for Make My Recipe tag game in the Aussie/Kiwi forum.
Bring a small pan of water to the boil. Carefully lower in the eggs and simmer for 4 minutes. Turn off the heat and leave the eggs in the water for another 15 seconds before removing with a slotted spoon.
Meanwhile, toast the bread, butter generously and spread thinly with marmite and slice into fat fingers.
Place your eggs in an egg cup and provide a teaspoon and a knife.
Cut the tops off the eggs and eat with the buttery marmite toast soldiers and a little salt.
Cook's note: if you use eggs at room temperature rather than straight from the fridge, they are less likely to crack in the boiling water.