Brioche With Chocolate Chips Abm
batik6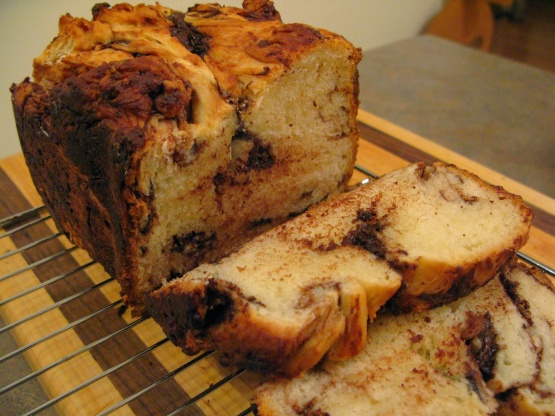 Posting so I don't lose this one. So rich, so good, so easy with an automatic bread machine. This was given to me by a French work colleague who got it from a friend off of a French ABM recipe site. If the chocolate chips aren't frozen, or even if they are, they melt easily and you may wind up with chocolate swirl brioche, which is still good. Sometimes it works out ok for me and sometimes it doesn't. Put in the order your machine needs and use the sweet bread setting.

Top Review by batik6
Just made this and it turned out lovely. Yes, it made chocolate swirls but that's what chocolate brioche is supposed to look like! It's a small loaf, even in my 2lb bread machine. But it's just like brioche in Europe and I'll be making it again. Thanks!
Put all in the bread machine in the order needed for your machine.
The original recipe calls for 2 packets of vanilla sugar and 3 Tbsp sugar.
Freeze the chocolate chips to stand a chance of them not melting and giving you swirl bread.
Use the sweet bread setting on your machine, time to cook will vary, for me, 3 hours and 20 minutes.