Brined, Herb Grilled Turkey
jcwainc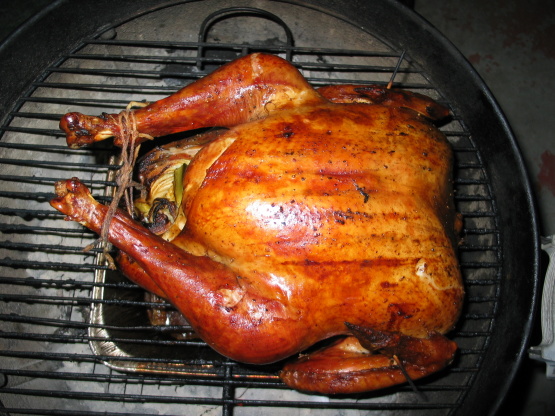 I heard about brining from a couple of friends who like to cook and thought I'd try it out. I did some research on the web and came across this brining solution from Emeril. I have always grilled my turkeys with great results.

There's a tendency to skip over recipes that have few or no reviews. DO NOT SKIP THIS ONE!<br/><br/>With all the difficulty I had finding this review in the first place, I can understand why I'm the first to review it. I usually grill our turkey, but I wanted to do something different this year, and came across this recipe late Thanksgiving Eve. Too late, in fact, to use the recommended brine, so I can't speak to that. What I can tell you is that using the rest of the recipe (and our faithful Weber gas grille set for indirect cooking) produced a perfect, delicious, juicy, crisp skin, so-gorgeous-it-could-have-been-used-in-a-Zacky-Farms-advertisement cooked turkey. If you're going to grill a turkey, this is the recipe to use. And don't be scared off by having to flip the turkey over after starting it breast side down. That's actually easy - just stick two pot holders in gallon-size plastic freezer bags, put a hand in each bag and take hold of the pot holder, grab the turkey, turn it over, and stick it back in the rack. So easy, even I can do it, although you might want to have someone standing by to hold the rack in case something sticks.<br/><br/>The only changes I made were to leave out the onion and garlic (food intolerance) and to add a cut-up lemon to the aromatics, and speaking of that, the cavity of the 16-pound turkey I used couldn't hold all the aromatics the recipe calls for, so some celery and lemon and orange sections got left out. I put them on the grille while the turkey was resting, and decorated the serving plate with them. <br/><br/>The ten people around our table were of varying ages and ideologies, but all of them united in praising the turkey. They also ate so much of it, all we had for leftovers were the legs, parts of the wings and a few scraps of turkey breast that wouldn't have made a decent sandwich. <br/><br/>So use this recipe without fear. And here's a message for Big Daddy Cook: Thanks, we owe you one.
To make the brining solution, dissolve the salt and sugar in 3 gallons of cold water in a large clean, heavy-duty, food grade plastic storage bag. Add the oranges, lemons, thyme, and rosemary.
Rinse the turkey inside and out under cold running water. Soak the turkey in the brine, covered and refrigerated for up to 24 hours.
Remove the turkey from the brine and rinse well under cold running water. Pat dry with paper towels inside and out.
Place turkey, breast side up, in a large, foil roasting pan with a rack. Rub breast side with orange segments and rub on all sides with the butter, stuffing some underneath the skin.
Season lightly inside and out with salt and pepper.
Stuff the turkey with the onion, remaining orange, celery, carrot, bay leaves, thyme, rosemary, sage and parsley.
Loosely tie the drumsticks together with kitchen string. Grill the turkey, uncovered, breast side down for 1 hour.
Remove from the grill turn, and baste with 1/2 cup stock. Cover with foil and continue grilling with the breast side up until a meat thermometer registers 165 degrees F when inserted into the largest section of thigh about 3 to 3 1/2 hours total cooking time. Baste the turkey once every hour with 1/2 to 3/4 cup chicken or turkey stock.
Remove from the grill and place on a platter. Tent with aluminum foil and let rest for 20 minutes before carving.