Brigadeiros - Chocolate Fudge Truffles
Tisme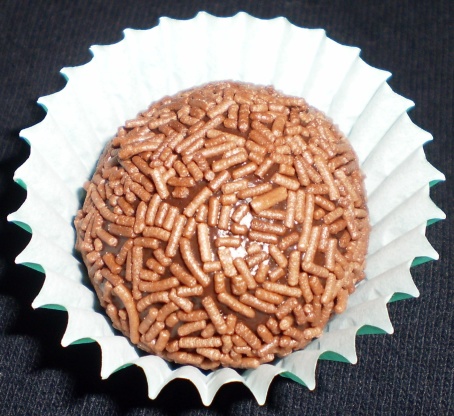 These truffle balls are said to have originated in Brazil. They have a caramel chocolate flavor and are traditionally serves in paper or foil chocolate cups/liners. Posting this recipe for ZWT- I haven't yet tried this recipe

Top Review by Tisme
These are so decadent, just like a chocolatey caramel fudge...Wow!
So easy to make, although you must keep an eye on the condensed milk simmering........ I nearly lost it......lol
I followed the recipe as written and these turned out so yummy!
I did use buttered hands at first, but found it so much easier just using slightly wet hands. I made mine a little smaller, and got 18 truffles. I placed them in small coloured patty cases and they look so pretty!
Thanks Jubes, for a great truffle recipe.
Pour the condensed milk into a heavy based saucepan.
Stir in the cocoa powder and the salt.
Cook, stirring constantly, over a low heat. Keep the mixture at a slow simmer to prevent burning and sticking. Do not leave unattended.
Cook for 10-15 minutes, stirring, until mixture becomes very thick and shiny and starts to pull away from the bottom and sides of the pan.
Remove from heat and stir in the butter and the vanilla.
Chill in the refrigerator for 30 minutes.
Using buttered hands, roll the mixture into 1 inch balls.
Roll each ball in the chocolate sprinkles, and place in a paper liner.
Chill until ready to serve. Store in the refrigerator.