Brie Twice Baked Potatoes
Rita1652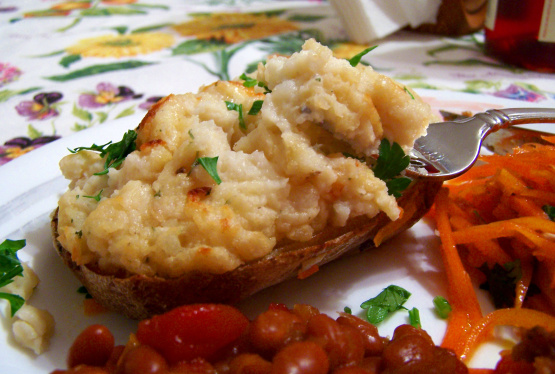 These are creamy soft and comforting! No need to salt the onion mix has sufficient amounts. This can be made the day before for easy preparation of a party, or make and freeze for future enjoyment.

Since there were just the 2 of us to enjoy this dish, I did cut the recipe in half, & since I remember from past experience how overpowering (in my opinion, of course) the onion soup mix can be, I used only 1/3 of the envelope instead of half of it! Other than that, your recipe was followed, & the flavor combo from the cheese & everything else was OUTSTANDING ~ Definitely something I'll be making again & again! Thanks for this GREAT KEEPER OF A RECIPE! [Made & reviewed as a recipenap in the Vegetarian/Vegan Recipe Swap 20]
Preheat oven to 375 degrees F.
Slice 5 of the baked potatoes lengthwise in half. Carefully scoop out the potato flesh into a medium bowl, leaving a 1/2-inch thick shell. Rice the potatoes back into the bowl. Rice the garlic the peel the other potato and rice into the bowl.
Add butter, creams, onion mix, pepper, parsley and brie to the bowl of potatoes and stir til combined.
Mound the potatoes into the potato shells and place on cookie sheet pan. (Potatoes may be covered and refrigerated up to 24 hours at this point. Let come to room temperature before finishing in the oven.)
Bake 12 to 15 minutes, until cheese has melted and stuffing is heated through. Brown under the broiler until golden, if desired.