Brie Topped Dijon Chicken Breasts
FLKeysJen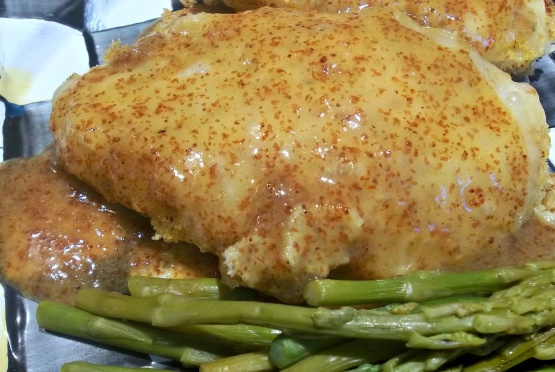 A delicous, golden chicken topped with a mild Brie cheese. For a change of taste, you can also use Camembert or Mozzarella cheese. From the Dairy Goodness Website. Hope you enjoy!

Top Review by Latda
My bf and I enjoyed the recipe a lot. The mustard, honey and brie goes very well together. I didn't have dry mustard for the honey dijon sauce so I used honey and regular mustard and it was just as tastey...I'm a huge brie lover so this one is my all time favorite! Thanks!
Preheat oven to 350 degrees.
Combine Dijon mustard, lemon juice, egg and pepper.
Brush chicken with mustard mixture.
Coat with bread-crumbs.
Melt butter in large frypan.
Sauté chicken until golden on both sides.
Place on baking sheet.
Cut Brie cheese into thin slices.
Place on top of chicken.
Bake in oven for 10 minutes or until cheese is melted and chicken is cooked through.
To serve, mix Honey Dijon Sauce and spoon over each chicken breast.