Brie Stuffed Jacket Potatoes
ImPat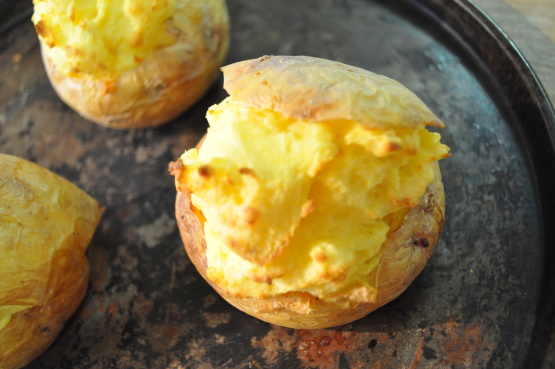 In an internet quest for the recipe for Brie-mashed potatoes, I came upon these little gems. I was only baking for two, so only used two potatoes, however, I forgot to scale down the remaining ingredients, which were slated to feed four (using 4 potatoes). My husband and I both agreed that these were the best things upon the plate tonight. From igourmet.com. Prep/Cook time does not include time for baking the potatoes.
OH My Gosh,s'Kat the potatoes are Scrumptious.My DH said you need 50 stars. They are easy to make, could be made a head of time & baked when needed. I think you can just double or tripple the recipe. I am going to be making them for 8 people soon. Thanks for posting such a delicious recipe.
2

baked potatoes

3

ounces brie cheese, de-rinded,room temp
1⁄2 teaspoon salt

1

egg yolk

2

ounces butter, room temp
freshly chopped chives
Slice off the top of each potato and scoop out the flesh, leaving behind a potato skin jacket ready for filling.
Mix together potato flesh, Brie, salt, egg yolk and butter.
Beat until well mixed, and return mixture to potato skins.
Place upon a baking sheet, or preferably a baking stone.
Put into a 375-degree oven for 15 minutes, or until filling is golden brown.
Sprinkle with chopped chives.