Brie in Puff Pastry With Cranberry Sauce
Shuzbud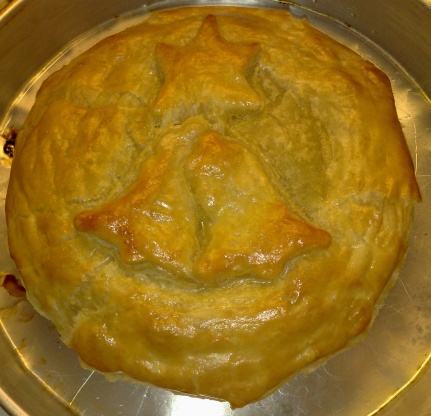 Yummy cheese and fresh cranberry sauce baked in a puff pastry shell--wonderful for holidays.

Made this as a starter for Christmas dinner and it was a favourite with everyone- it was gone within minutes! Next time, I will not let it cool for so long- I left it for 15 minutes this time and the brie was barely soft. I like it really soft! A super recipe that looks very impressive!
Make cranberry sauce by using first 4 ingredients. Mix cranberries, brown sugar, and orange juice in 1 quart sauce pan. Heat to boiling, stirring frequently; reduce heat.
Simmer uncovered 15 to 20 minutes, stirring frequently, until mixture thickens and cranberries are tender. Stir in orange peel and remove from heat.
Melt butter in 8-inch skillet over medium heat. Cook almonds in butter, stirring frequently until golden brown.
Preheat oven to 400°F Spray cookie sheet with cooking spray. Roll pastry into rectangle 16 x 9 inches on lightly floured surface. Cut out 1 8-1/2 inch circle and 1 7-inch circle.
Place cheese on center or larger circle. Spoon cranberry sauce and almonds over cheese. Bring pastry up and press around side of cheese. Brush top edges of pastry with egg. Place the 7 inch circle on top, pressing around edges to seal. Brush top and side of pastry with egg.
Cut decorations out of remaining pastry--things like hearts, stars--whatever you like, and arrange on top. Brush with egg; place on cookie sheet.
Bake 20 to 25 minutes or until golden; cool on cookie sheet on wire rack for 30 minutes before serving. Serve with crackers and fresh fruit.